For many years, Sentinel has provided pro bono assistance to the wonderful people at the Kirsty Watts Foundation. As South Africa grapples with its worst unrest in the democratic era, the KWF's work is more important than ever before. Read on for a rundown of their successes in the first half of 2021 and their plans for the remainder of the year.
Sentinel administers the trusts behind various non-profit organisations on a pro bono basis. One of these is the Kirsty Watts Foundation (www.kirstywattsfoundation.org.za) which was established by 14-year-old Kirsty after surviving cancer. Kirsty believes in "kids helping kids" and felt that since she was fortunate to receive incredible support and medical care, she would like to assist children less fortunate than herself. Almost 15 years later the foundation has achieved incredible successes across a truly staggering array of causes.
We had originally planned to send you this update in acknowledgement of Nelson Mandela Day on Sunday. But the recent looting which has gripped KZN and Gauteng makes it more pertinent than ever. The devastation caused by the looting, and the ongoing impact of the pandemic, make the work of the KWF more important than it has ever been. We are truly humbled to play our part, however small, in improving the lives of some of South Africa's most vulnerable people.
Read on for a rundown of what the foundation has achieved in the first half of 2021 and of what they hope to do in the weeks and months to come.
The year to date
 Kirsty's mom, Belinda, who manages the day-to-day running of the foundation, reports that 2021 has been the most challenging in the organisation's history. Not only has Covid exacerbated the challenges faced by many South Africans but it has also made funds tighter to come by for the foundation. To make matters worse, KWF chairman Gavin Varejes was recently hospitalised with Covid. He is thankfully well on the road to recovery. Despite these challenges, the KWF has still managed a number of successes in the first half of 2021.
Happy birthday Marjorie!
We celebrated Dr Marjorie Manganye's 90th birthday with a cake of her dreams for the Ithlokomoleng Home for the Aged in Alexandra. Marjorie continues to serve as CEO of Ithlokomoleng and her boundless energy and generosity make her an inspiration for all. What's more, thanks to the Spar group, we have continued to supply 100 loaves of bread to the home every week.
New furniture and printers for Nhlengela Primary School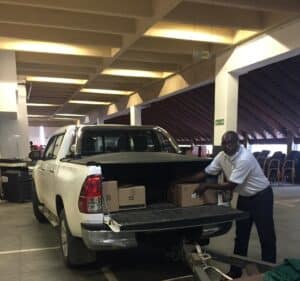 The Eris Property Group approached us early in the year as they were moving premises and wanted to donate all their office furniture and industrial printers. Principal Lyson Mdhluli from the Nhlengela Primary School near Acornhoek in Mpumalanga was very excited at the prospect of benefiting from this generous donation. This non-fee-paying school in a very remote area has only 14 teachers and eight classrooms to cater for 548 learners. Lyson drove to Johannesburg with a borrowed trailer to collect the items we had secured for Nhlengela. Pupils and teachers alike are thrilled with the new equipment.
Easter at Ubuhle Bezwe Children's Home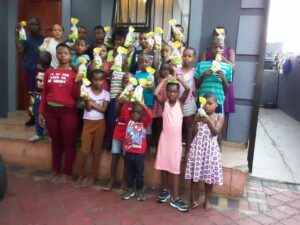 We sent Easter eggs to the children at the Ubuhle Bezwe Children's Home which looks after about 40 children in Tembisa. We were also able to send them some of the extra Christmas gifts donated by ABSA. All of the children received school packs with headphones, stationery, T-shirts, caps and water bottles.
Hindu blessings for Ithlokomoleng
 A traditional Hindu ritual known as Terahvin involves giving to those in need on the 13th day after the passing of a loved one. Meghna and Andrew Alaxman chose the KWF and the Ithlokomoleng Home for the Aged to receive a large donation of food and sweet treats in honour of Meghna's mother.
Plans for the rest of the year
More hearing aids for Nuwe Hoop
We are currently finalising our 2021 proposal to the Speech, Language, Hearing Foundation in the UK and hope to get another donation in pounds! The goal is to purchase more hearing aids and a new audiology machine for the learners at the Nuwe Hoop School for the Deaf in Worcester who we have supported for some time.
Reopening our soup kitchen
The HTA Chef School has given us the go ahead to restart our Soup Kitchen and this is now up and running at Ithlokomoleng. As we are only able to prepare the soup once a month, we would like to buy a large chest freezer for the home and plastic containers that we can use to freeze the soup. If anyone can assist in this regard, please contact us.
A play area for TLC Home for Abandoned Babies and Orphans
 The TLC Home for Abandoned Babies and Orphans has to move from the property they have been at for the past 25 years. We have been to the new property they are renovating in Walkerview and it is going to be wonderful. We have purchased a play gym for the children's play area which was installed on 14 July 2021. We have also been given a Wendy house, mini kitchen, toys and toy cupboards by Colleen Solomon which we will deliver to the new home.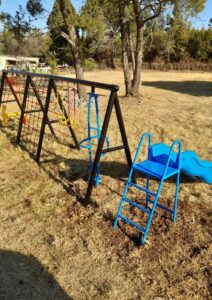 Rebuilding SA
It goes without saying that we plan to do our bit to help rebuild the communities ravaged by the current unrest. It's still too early to say what form this will take, but you can rest assured that we will do all we can to uplift the vulnerable people whose lives have been most affected.
Want to help?
 Whether you'd like to contribute time, expertise, goods or money, the Kirsty Watts foundation is always looking for help. Anyone who wants to assist can contact Sentinel's Chanel Schoeman, who serves as a Trustee, on ChanelvR@sentineltrust.co.za. Alternatively make a (tax deductible) donation into the Trust's account.
KW Foundation Trust Account
Nedbank current account:
Account Number:1969227273
Branch: 196905
Hopefully the current unrest will soon abate and Nelson Mandela Day will mark the start of the rebuilding process. South Africa needs all the assistance it can get at the moment, so anything you can do will be much appreciated.